Wintry Weather to Come!
2014-12-08 17:59:03.000 – Michael Dorfman, Weather Observer/IT Specialist
The mountains of New Hampshire may see their biggest storm of the season so far with this next round of snow. With temperatures hovering just around the freezing mark, the amount of snow that falls will vary greatly depending on location. Southern and coastal areas will see warmer air, so they will see little or no snow out of this storm. A slushy 2-4 inches can be expected for Merrimack and Belknap counties, with more accumulation at higher elevations. Snow totals in Northern Carroll and Coos counties will be dramatically higher, with a widespread 10-14 inches falling by 7 PM Wednesday.
Once Wednesday passes, we won't be completely out of the woods with precipitation. While precipitation should remain as (wet) snow throughout the entirety of this storm in the mountains, it may transition over to rain as warmer air pushes into the region. The bulk of the precipitation will fall by Wednesday morning, but with the low pressure system stalling out on top of us, we will see continued precipitation through Thursday.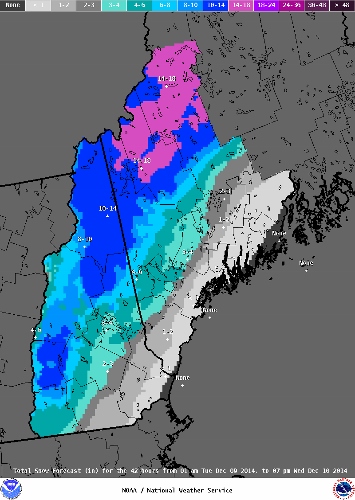 A product from the National Weather Service Gray, Maine office showing projected snowfall for the upcoming storm!
One extremely helpful resource when trying to determine snowfall is the National Weather Service's Weather Prediction Center. One of their products is a probability map for specific snowfall depths across the US. The website for National Weather Service office in Gray, Maine is another great website and they have been putting out snowfall storm total maps here.
For all of you snow-lovers who are on the wrong side of the freezing mark for this storm, just take a look out west! The Coastal Range and mountains in the Northwest are about to get pounded with white concrete. Glancing at Mount Bakers' point forecast for the next week, I see a low range of 112 inches and a high range of 135 inches of snow through Thursday night! 34-40 inches of snow are expected to fall overnight at Mount Baker! While these point forecasts are not always accurate for extreme locations like Mount Baker (or up here on Mount Washington), it will still undoubtedly receive extremely high snow totals in the coming days. It's not surprising, since Mount Baker currently holds the world record for the highest seasonal snowfall of 1,140 inches! But don't fear-winter is just starting here in the Northeast. There is so much more to come!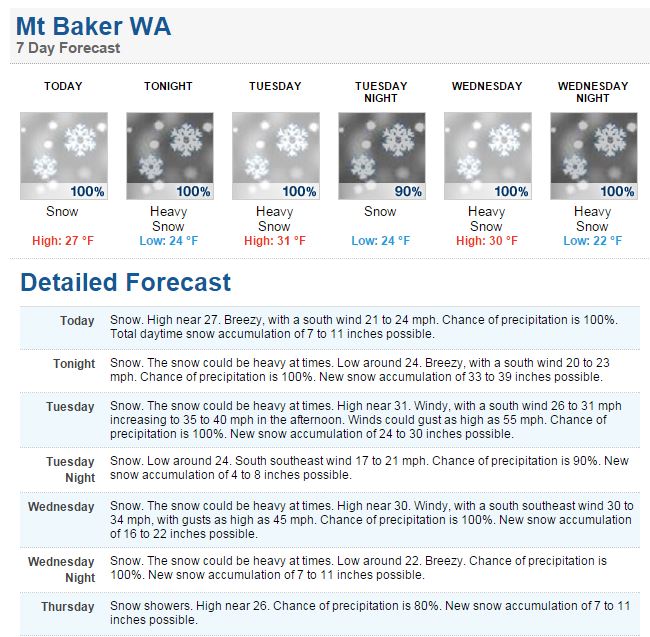 A screenshot from the NWS point forecast for Mount Baker
Michael Dorfman, Weather Observer/IT Specialist
Ellen Estabrook
Adjusting to Life on the Summit By Charlie Peachey Working on the summit of Mount Washington is not your average job. There aren't too many other places where the employees work and live together for
Ellen Estabrook
A Surprise Aurora By Francis Tarasiewicz After 17 months of working at New England's highest peak, it finally happened. On the night of November 12th, 2023, I was lucky enough to view the famous and
Ellen Estabrook
A Glimpse at METAR Reports By Alexis George, Weather Observer & Meteorologist METAR observations are submitted every hour of every day at Mount Washington Observatory. METAR is a format for reporting weather information that gets