Yay Spring…Just Kidding! April Fools!
2019-04-01 12:24:18.000 – Ian Bailey, Weather Observer/Education Specialist
Of course, shenanigans were bound to occur this shift with today being April Fools Day. However, while pranking each other is all in good fun, being pranked by the weather certainly hasn't been.
Our shift started very spring-like indeed. On shift change day, we came up to a summit that had been sitting under clear sky conditions for over 20 hours! Temperatures were on the rise, and we actually had wind chills that weren't below freezing! Our crew was settling into the idea of transitioning out of Winter conditions, especially once the temperatures crested to the freezing mark towards the end of the week.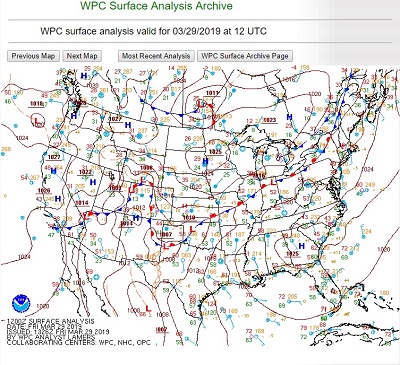 WPC Surface Map from Friday morning showing the stationary front.
To start the weekend, a cold air boundary pushed its way into the Northeast. So we initially were wary that there may be a significant temperature drop and we'd be right back into winter. Interestingly enough, that boundary stalled out into a stationary front, basically right over top of us! Stationary fronts get their name from their lack of progression, and how they can linger over a region for several days at a time. Additionally, they are a fairly week boundary between cold and warm air, and generally don't produce much in the way of a wind change or elevated wind speeds. As you can see in the surface map above, there was also a high pressure system anchored in the Southeast region of the U.S. during that time that was responsible for rotating warm, moist air up from the Gulf of Mexico.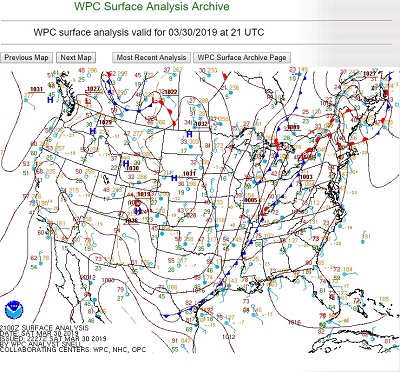 WPC Surface Map from Saturday afternoon showing the low pressure system.
So while we lost our clear skies above to high clouds and inevitably fog, we really didn't see much of a temperature drop. We did have some light snow showers, but it was nothing like what we normally see during our 8 month Winter season. Then, on Saturday, a low pressure system pushed in from the Great Lakes Region, and actually merged with the stationary front creating a new, stronger low! With a well-defined warm front that lifted through New England over the course of the day, our temperatures shot above freezing and made a run for the 40-degree mark! With this, we were expecting a transition through a wintery mix of precipitation throughout the day. But because of how fast temperatures rose once we were inside the warm sector of the low, we skipped right over sleet and went straight to freezing rain and rain! As you might imagine, we had some pretty serious melting here on the summit, and lots of glaze ice initially!
As the low continued to push Northeast through Sunday, we could see that we were about to get our big April Fools from Mother Nature. While we had grown accustomed to the idea of "Spring" since we arrived on Wednesday, we could see that the incoming cold front associated with the low was going to be a doozy! We had rain on the summit all the way into the mid-afternoon, with plenty of ponding and water build up on the summit. And once that cold front passed, temperatures plummeted!

Our instrument display showing the rapid drop in temperatures following the cold front.
We dropped almost 10 degrees over a period of 2 hours, which definitely sent us back below the freezing mark. There wasn't even a noticeable transition through the typical wintery mix of precipitation. We went from rain showers to snow showers (snaps finger) like that. And things were flash-freezing all across the summit cone. When I went to the top of the tower to de-ice the instrument ring, it was like trying to walk on an ice rink (which was a very similar case down in the parking lot on the way to the precip can). So in what felt like an instant, our aspirations for Spring-like conditions were, literally, blown away and Mother Nature gave us a brand new round of Winter headed into April.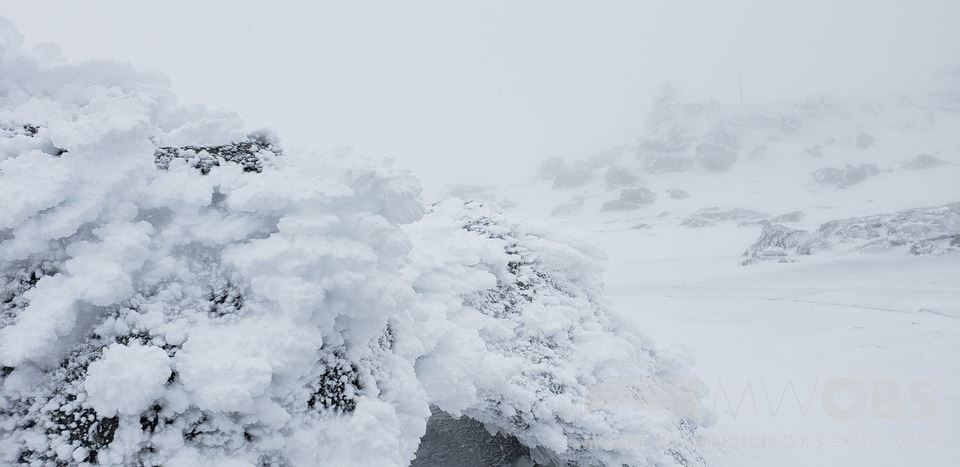 Back to Rime Ice here on the summit!
As you might have guessed there have been plenty of April Fool's shenanigans last night and today. But none of them could compare to the Wintery trick played on us by Mother Nature. Oh well! Happy April Fools everyone! Back to de-icing!
Ian Bailey, Weather Observer/Education Specialist
Ellen Estabrook
Adjusting to Life on the Summit By Charlie Peachey Working on the summit of Mount Washington is not your average job. There aren't too many other places where the employees work and live together for
Ellen Estabrook
A Surprise Aurora By Francis Tarasiewicz After 17 months of working at New England's highest peak, it finally happened. On the night of November 12th, 2023, I was lucky enough to view the famous and
Ellen Estabrook
A Glimpse at METAR Reports By Alexis George, Weather Observer & Meteorologist METAR observations are submitted every hour of every day at Mount Washington Observatory. METAR is a format for reporting weather information that gets