History of Cats on the Mountain
2017-07-03 18:50:04.000 – Jillian Reynolds, Summit Intern
One of the most commonly asked questions that I receive while working on Mount Washington is "So what is the story behind Marty the cat?" I explain when the tradition of having cats up here started and who Marty is. I never really knew much about the other cats, so I decided to research the history of cats on Mt. Washington.
The history of cats on the summit starts back in the early 1930s, along with the start of the observatory. During these times, cats were kept to keep the rodent problem under control and to keep the weather staff company. The first known cat is Tikky (Roberts, 2010). By 1934, logs recorded an amount of 8 felines kept in the observatory. Names included Oompha, Blackie, Ammonuisance, Elmer, Manx, and George.
As decades of passed since the 1930s, the summit cats have gained fame. Inga, a calico, was brought up the mountain in the 1980s. She was featured on T-shirts, posters, postcards, and other souvenirs (Roberts, 2010). The picture of Inga outside during a winter storm is seen on a poster and postcard in the Observatory's gift shop. She passed away in 1999.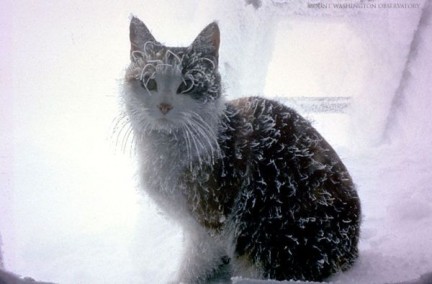 Next up was a cat named Nin. He showed up as a stray at the home of one of the staff in the valley in 1995, and was named after the writer Anais Nin. He watched ravens, had staring contests with a fox, hiked over boulders, purred on people's laps and patiently watched as they played Scrabble (Roberts, 2010). Nin retired in 2007 and passed away in 2009.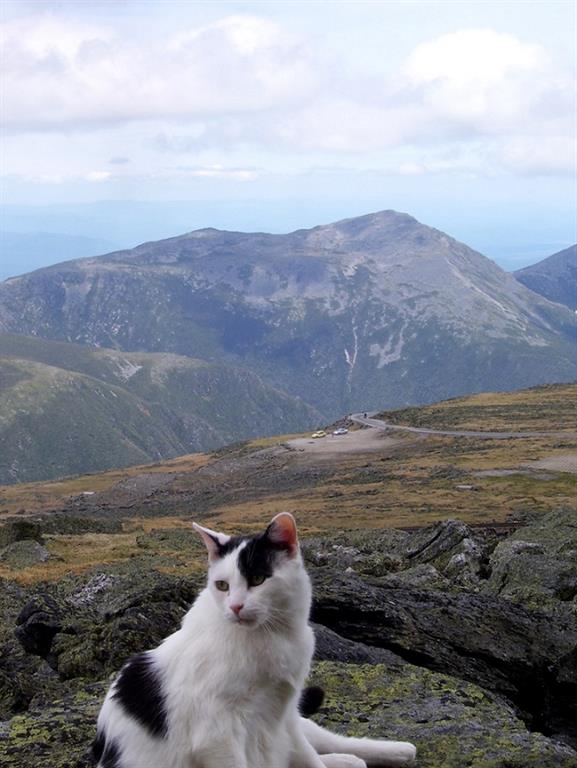 After Nin's retirement, an election was held for the next resident summit cat. The Conway Area Humane Society proposed three candidates that were in their care and they felt would be suitable (Roberts, 2010). Marty, our most recent feline, won with more than half of the 8000 votes. He quickly became a valued member of the summit community, and was very curious. He would always peek inside an open drawer or cupboard. During 2009, Marty had a few health problems which included infected teeth. Ten teeth were removed and made him much more comfortable (Roberts, 2010). After knowing Marty for a couple weeks, I know that he has free range of the entire summit building, as well as outside. He can usually be seen lying in his bed in the observatory.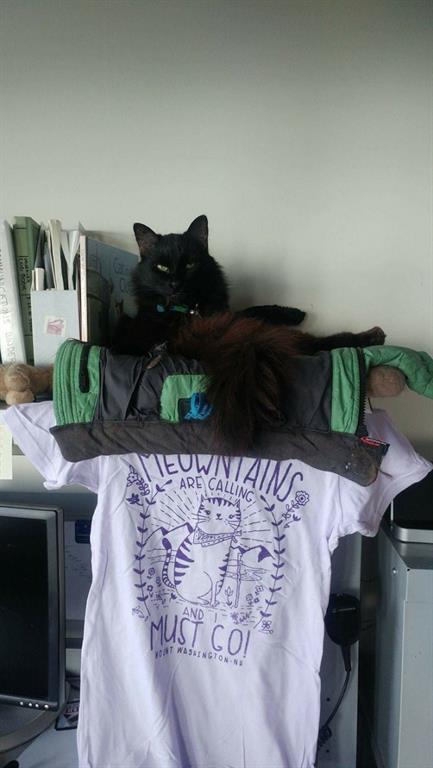 Jillian Reynolds, Summit Intern
Ellen Estabrook
Adjusting to Life on the Summit By Charlie Peachey Working on the summit of Mount Washington is not your average job. There aren't too many other places where the employees work and live together for
Ellen Estabrook
A Surprise Aurora By Francis Tarasiewicz After 17 months of working at New England's highest peak, it finally happened. On the night of November 12th, 2023, I was lucky enough to view the famous and
Ellen Estabrook
A Glimpse at METAR Reports By Alexis George, Weather Observer & Meteorologist METAR observations are submitted every hour of every day at Mount Washington Observatory. METAR is a format for reporting weather information that gets