Snowflakes on the Summit
2013-12-09 19:12:30.000 – Mike Dorfman,  Weather Observer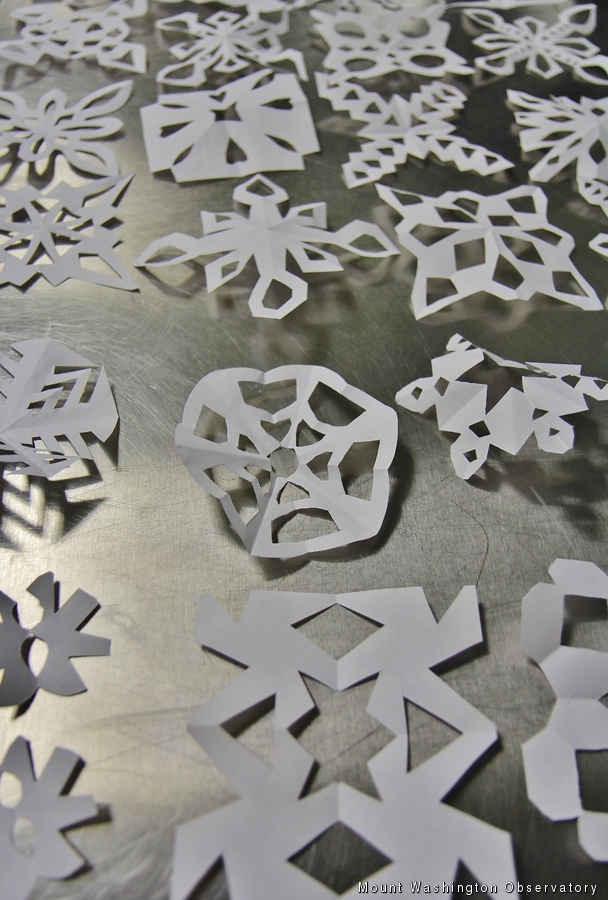 Paper Snowflakes on the Summit
Working week-long shifts every other week, the Rockpile is manned continuously, even on holidays. To make this holiday season more enjoyable for us, our wonderful volunteers this week have generously donated a Christmas tree to the observatory for the second year in a row! To celebrate the snow falling both on and around the mountain, we have made paper snowflakes to put on the tree! Yes, these snowflakes aren't the anatomically correct 6-branched flakes that fall out of the sky, but they're still one of a kind and will look great on our tree!
If you want to see the summit in person and be a resident of the Top of New England for a night, the Mount Washington Observatory has several options for you! Our Edutrips provide an unforgettable experience revolving around various available themes. In addition to getting a behind-the-scenes tour of the facility and meeting all the observers, you will enjoy talks and activities on the summit following the theme of the trip.
If you don't want to spend a whole night on the summit, you can join one of our day trips! These trips take the Observatory's snow cat up the auto road, offering either stunning views of the surrounding snow covered peaks or examples of extreme weather and rime ice on the summit. You'll enjoy a guided tour of the summit, both inside and out, and join observers for a delicious lunch!
If you're more interested in the physical aspect of climbing the mountain, the Mount Washington Observatory has partnered with several guides in the area to offer overnight hiking trips! Imagine a warm bed and a thanksgiving-esque meal after a long climb up a mountain, and that's what you'll be getting if you join one of the hiking trips.
No matter how you get to the summit, we hope to see you this winter!
Observer footnote: Our year-end fund drive is taking place through December 31, and we need your support. Please make a tax-deductible donation of any amount here. As a nonprofit, people-powered institution since our founding in 1932, we need your help to continue our work! Thank you in advance for your generosity.
Mike Dorfman,  Weather Observer
Ellen Estabrook
Adjusting to Life on the Summit By Charlie Peachey Working on the summit of Mount Washington is not your average job. There aren't too many other places where the employees work and live together for
Ellen Estabrook
A Surprise Aurora By Francis Tarasiewicz After 17 months of working at New England's highest peak, it finally happened. On the night of November 12th, 2023, I was lucky enough to view the famous and
Ellen Estabrook
A Glimpse at METAR Reports By Alexis George, Weather Observer & Meteorologist METAR observations are submitted every hour of every day at Mount Washington Observatory. METAR is a format for reporting weather information that gets